Hi all Indian Vapers members,
This is Mindy from Vapefly and because of the huge success of our Core RTA and Firebolt Cotton, we thought of launching a giveaway here on the forum.
Please allow me to introduce Vapefly to you all. Vapefly started it's business in May of 2017. In just over a year, we have established a strong presence in the worldwide Vape market. Our Galaxies series (Galaxies RDA, Galaxies RTA and now the Galaxies RDTA) has made a great success. We are also known for our flavorful atties: Nicolas MTL RTA, Horus RTA, Mesh Plus, Wormhole and more!
Our success is because we listen to our customers and their needs. We spend a lot of time in market research and come up with what our users want. We are striving to produce some of the best atomizers for both segments: MTL users and Cloud Chasers.
It gives me great pleasure to announce this giveaway. We are offering the world famous Core RTA and the Firebolt Cotton. The Firebolt cotton is designed to produce zero taste of it's own, while producing tremendous flavor out of your eLiquid. Demand Vape in the US is our exclusive partner since they loved our Firebolt Cotton.
Giveaway Prizes to win: 2 Winners! Each will win One Core RTA and One Firebolt Cotton pack!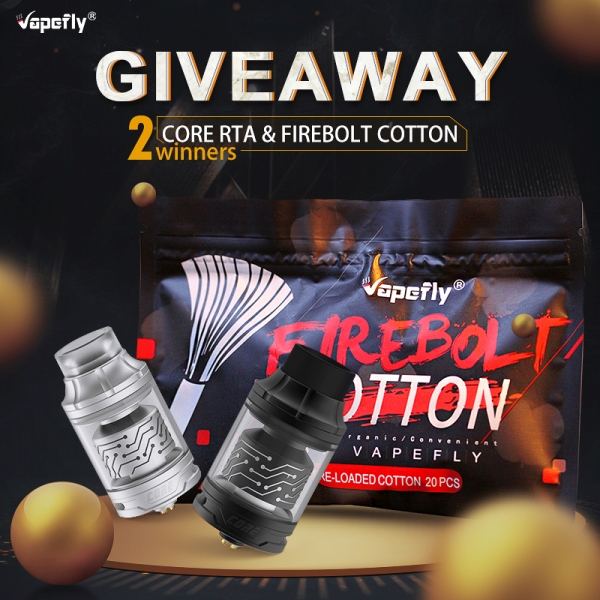 Giveaway Participation Rules:
1. Like our Vapefly FB Page -- https://www.facebook.com/Vapefly.net/
2. Join our Vapefly FB Group -- https://www.facebook.com/groups/VapeflyFansClub/
3. Comment below with hashtag #VapeflyCoreRTA and your thoughts of Vapefly products.
Please elaborate if you have used any Vapefly products. Let us know what you think of the Vapefly products. Your suggestions are welcome, we may include your suggestions in our upcoming products. As we mentioned earlier, we do extensive market research before developing any vape products. So we appreciate your suggestions!
(Please share this giveaway with your friends. The more people join this giveaway, we will offer even more giveaways in the future).
*** This giveaway will run till October 8th 2018. The 2 WINNERS will be declared on October 9th ***
We will be using a randomizer to declare the winners. We shall post a screenshot of the randomizer selecting our winners. The winners will then need to PM me their full name, address and phone number along with Tax ID number.
Please LIKE and SHARE this giveaway!
Wishing all the best of luck!